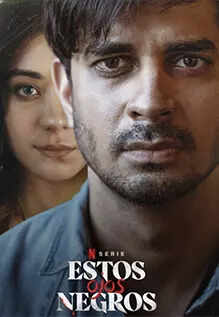 A twisted and gripping tale of power, love and deception
STORY:
Vikrant is a small-town boy who longs to settle down with a simple job and marry the love of his life, Shikha. But his dreams are about to be shattered when he becomes the object of Purva's desire, the daughter of a politician who will do anything to get him. Can Vikrant break free from Purva's clutches and find his true love?
REVIEW: All SRK fans and 90s movie buffs wouldn't have missed watching his anti-hero outings like Darr (1993) and Anjaam (1994), both based on the obsession with love and the will to go all the way to get what you want. Similarly, the basic premise of "Yeh Kaali Kaali Ankhein" – the title inspired by the iconic 90s hit song from the same genre film "Baazigar" – is based on William Shakespear's Othello phrase "For she had eyes and chose me".
When YKKA opens, something bad has already happened: Vikrant Singh Chauhan (Tahir Raj Bhasin) is in a terrible situation where henchmen are constantly shooting at him, and he says to himself as a narrator that today is the day of his death. His own account of his past reveals what happened to him and how he ended up in this situation. Set in the fictional town of Onkara located somewhere in Uttar Pradesh, Vikrant, an engineering graduate desperately awaits a job offer letter from Bhilai. He fantasizes about getting a simple job, buying a small house and a car, and living a simple life with his college girlfriend, Shikha Aggarwal (Shweta Tripathi Sharma). But life has something else for Vikrant, as Purva (Anchal Singh), the daughter of powerful and ruthless politician Akheraj Awasthi Vidrohi (Saurabh Shukla), has watched over him since childhood. What happens next and how money, power and women ruin a man's life, and the drastic measures he takes to get it back, is the heart of the story. Thus begins an exhaustive battle between paisa, taaqat aur pyaar, and there is much more than meets the eye.
After directing a captivating mystery novel "Undekhi", Sidharth Sengupta is back with a well-crafted and cleverly scripted dark thriller, which he co-wrote with Anahata Menon and Varun Badola. YKKA packs a lot of action and reaction into eight episodes that are just under an hour long. The storyline creates a pressure cooker-like atmosphere in which Vikrant is stuck with Purva and his every move is closely watched. Each episode of the web series has a different twist. At the end of the episode, the writers leave you thinking, and you quickly move on to the next episode, anticipating more trouble. Due to the impeccable cuts of its editor Rajesh G Pandey, the series never felt like it was dragging or going off the rails. While the narrative is dark and intense, the fictional sequences of Vikrant about future prophecies and his childhood friend Golden (Anant Joshi) provide comic relief. Varun Badola deserves credit for his lively and witty dialogues.
The subplot of Vikrant's family believing in Akheraj as their God is interesting, especially his father Suryakant (Brijendra Kala), who works as an accountant in Akheraj's office and has blind faith in him. Initially, Vikrant faced severe repercussions for their faith because he lacked the authority to say "no". Then, in the final episodes, Suryakant has a sudden change of heart and decides to help his son, which is both abrupt and unconvincing.
From river ghats to dams and near-small-town surroundings, Murzy Pagdiwala's cinematography adds authenticity to the plot. Moreover, the scenic spots of Ladakh are beautifully captured and easy to look at. Background music by Shivam Sengupta and Anuj Danait complements the plot and enhances the effect. But it's the incredibly hummable title track, a recreation of the Shah Rukh Khan-Kajol dance number, "Yeh Kaali Kaali Ankhein" by Anu Malik and Dev Kohli, that accompanies you throughout.
Apart from a crisp script, YKKA boasts of solid performance. Tahir Raj Bhasin (who recently played Sunil Gavaskar in Kabir Khan's '83') is delightful as the trapped Vikrant who is unable to escape. When he discovers that everything in his life is falling apart, including his true love, he inspires the audience to understand and empathize with his character's claustrophobic condition. Tahir's character arc is impressive and he pulls it off like a pro.
Among the girls, Shweta Tripathi manages to bring out the inner strength and vulnerability of her character, Shikha. Tahir and Shweta share great on-screen chemistry, especially in the scenes where they are dating in college. After starring in a few Sri Lankan movies and Tollywood movies, Anchal Singh is making his OTT debut with this series. She looks intimidating as the ruthless Purva, who can do anything to marry Vikrant. Throughout the series, his actions speak louder than his words.
Saurabh Shukla's depiction of a ruthless politician, Akheraj, ensures that you look down on him. He kills people without hesitation, and when it comes to Purva, the apple of his eye, he knows no bounds. Surya Sharma convincingly plays Dharmesh, Akheraj's horrible henchman, whom he treats as if he were his own son. Surya has already proven her versatility in comparable roles in web series such as "Undekhi" and "Hostages". Arunoday Singh enters the story late, but he plays an important role in the role reversal. Brijendra Kala, Sunita Rajwar, Hetal Gada, Anant Joshi, among the rest of the cast provide good support.
As producer-director-screenwriter, Sidharth Sengupta presents a psychological drama interestingly filled with twists and suspense traps. The title, along with several interwoven stories, will no doubt conjure up images of SRK and his films, like the iconic "palat palat" sequence from "Dilwale Dulhania Le Jayenge." That said, if you like pulpy 90s Bollywood thrillers, "YKKA" is a must-watch. (No Spoilers Ahead!) Finally, it leaves you wanting more while offering plenty of foreshadowing for the next season.