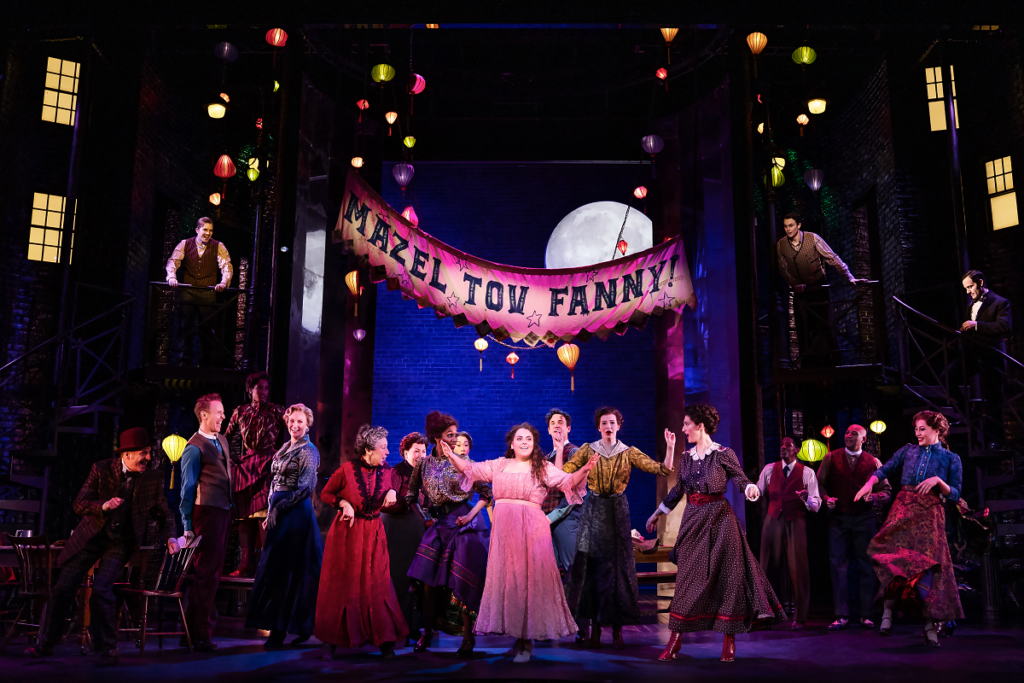 Funny Girl: Fanny is funny but "funny" is flat
By bringing funny girl, Beanie Feldstein and director Michael Mayer seem admirably determined to make us forget both Barbra Streisand and the 1968 film of her 1964 Broadway hit. (Streisand turns 80 today on opening night, which may not be the safest way to forget her.)
Granted, Feldstein is a less than stellar singer. She is a careful singer, that is, a dutifully trained singer who strives not to miss, hoping that we will tolerate the lack of brilliance necessary to sell titles like "People" and "The Music That Makes Me Dance". Well, Fanny Brice, the now largely forgotten subject of this musical biography, was no better either. When she took a ballad, she pulled it off with sincerity, and when Feldstein taps into the emotion of Jule Styne's melodies and Bob Merrill's lyrics, she pulls it off just fine.
[Read David Finkle's ★★★★☆ review here.]
Taking inspiration from the real Fanny as well as the title, Feldstein and Mayer delve into their subject's long costume, her acting talent. They push Brice's ad libs of aggression and self-mockery, and Yiddische deeper inflections than Streisand ever did. And since Feldstein is a gifted comedian (as we learned from the film Library), much of the humor lands. She shamelessly uses her plus size, while ignoring that her punishment is barely as twisted as the dialogues and lyrics suggest. Just as a Cyrano doesn't need a nose to provoke their inner turmoil – thank you, Peter Dinklage and James McAvoy – I dare say a Fanny Brice can use anything at her disposal to underscore her underdog status. , as she puts it, "a bagel on a plate of onion rolls.
Feldstein twists new twists on Ziegfeld's big number in the first act, "His Love Makes Me Beautiful." She still puts the pregnancy pillow under the wedding dress, but adds a few extra gags that add to the fun. Later, in "Rat-a-Tat-Tat" (not used in the movie, so it's fresh), his cheerful stereotype of "Rockavay's Private Schvartz" may push the boundaries of 2022's taste criteria, but it's a 'is exactly in step with the theatrical era before the depression, and shows us, for this moment, exactly why Brice was such a popular and successful attraction.
But that's about all there is to say for the production, which relies on an episodic Ziegfeld Follies quality and pacing that, while entertaining, shortens its story.
Isobel Lennart's original libretto was always derivative and thin, but at least it has a cohesive central premise. Confident onstage, offstage Fanny is so insecure that she's instantly dazzled by her first "ruffled shirt," gambler Nick Arnstein (Ramin Karimloo, who has no trouble dazzling anyone, in shirt or without shirt). She inadvertently smothers the guy, so he chooses to turn to crime in order to forge his own interest in life. He gets caught, goes to jail, and finally turns his back on the prison that is his love. Bloodied but rebellious, she survives. It's basically a knockoff of Lennart's biopic Ruth Etting Love me or leave me with Nicky both making love and leaving. But as a spine on which to hang numbers and sets, it's useful enough.
Dissatisfied with the sheer ease of maintenance, fans have long dreamed of someone "fixing" the book. But Harvey Fierstein's overhaul, tinkering with lines in act one and including slightly heavier edits in act two, isn't a solution. Indeed, the direct line is increasingly lost in Mayer's attempt to throw it all at the audience in a louder, faster and funnier cavalcade, in the obvious hope that we will be constantly sidetracked and not notice not that very little is happening.
David Zinn's set is dominated by a giant brick cylinder – a turret, really, with impractical windows; you wouldn't be surprised to see Rapunzel's hair fall out of it. It sits menacingly and distractingly in the center of the stage, periodically opening up to reveal that scene or dance, but with no visual connection to the rest of the stage space. Ellenore Scott's choreography is exuberant, lit to within an inch of her life by Kevin Adams, who makes sure we don't miss a seam of Susan Hilferty's stunning (and, in my eyes, era-respecting) costumes. . But it's all in your face, lacking variety and nuance. Along the way, interest in the central character and his story dries up. Minor characters should keep reminding us of what Fanny and Nick are up to, or how much time has passed.
The principals are poorly served by songs and scenes framed like vaudeville tricks. Karimloo and Feldstein are light on romantic chemistry anyway, and pushing the slapstick in "You Are Woman, I Am Man" diminishes it further. (Performer biographies often operate on the tedious assumption that stars behave offstage exactly as they behave.) A jazzy interpolated number from the Styne-Merrill trunk, "Temporary Arrangement," has Nick and some chorus boys dancing his frustrations, redundantly. and not credibly. Jane Lynch (Mama Brice) and her poker-playing pals, played by Toni DiBuono and Debra Cardona, were asked to blast their batting lines face-to-face, smiling the entire time, so the funny banter (whether the ones of Lennart or Fierstein) do not make people laugh, they deserve.
Jared Grimes is in a particularly unfortunate position as Eddie Ryan, Fanny's first mentor. The effort to expand his role comes down to a scene in which, in less than two minutes, he offers to go out with Fanny, she shoots him down, and they decide to stay Just Friends. Grimes' tap-dancing prowess is showcased in some wondrous tricks (tap-dancing choreography attributed to Ayodele Casel), evoking the spirit of the great John W. Bubbles, a contemporary of Brice. This Eddie is also set to be a Ziegfeld headliner, but he simply becomes Fanny's sounding board and exposition purveyor again, periodically taunting Nick in a lame attempt at character conflict. If someone wanted to "fix" funny girlthey could have started with Eddie.
But it's all down to Fanny Brice, who deserves better, just as the public deserves to know her better. She was a strong woman, as all stars should be, not a faded poop. From the start, she was built as a hope who has already paid a lot of contributions, in stock market and amateur competitions. Yet no sooner does she finish telling us she thinks she's "the biggest star," than she stumbles upon her debut at Tom Keeney's (Martin Moran) seedy burlesque home in Brooklyn with paralyzing stage fright. It's a stupid and counter-productive cliché. If Fanny sailed these boards with complete confidence in selling "Cornet Man," we might begin to believe she's the one talent that could impress a Ziegfeld (Peter Francis James). And afterwards, we could buy that she won't let anything get in her way, and that she's the kind of iron lady who can berate her husband for missing opening night. Feldstein fights "the cuties" throughout her performance, but she can't do it alone.
It doesn't seem like the work of Michael Mayer who so carefully molded every cast member and every moment into one. spring awakening whole. Rather, it mirrors the Mayer of 2011 On a clear day you can see forever the comeback, another problematic mid-'60s musical whose hoped-for redemption was undone by a cluttered staging and an insufficiently thought-out production idea.
Funny Daughter opened on April 24, 2022 at the August Wilson Theater. Tickets and info: funnygirlonbroadway.com