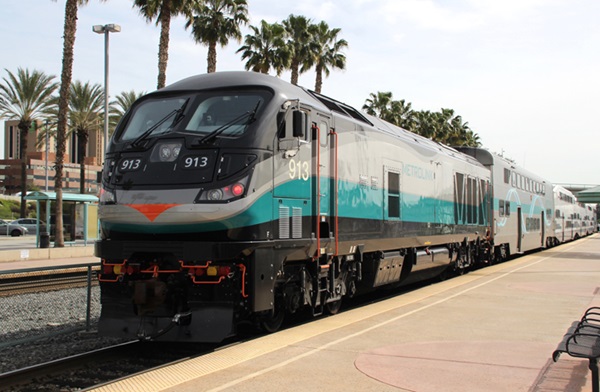 Locomotive issues lead to Metrolink train cancellations
---
LOS ANGELES — Citing "mechanical problems with some of our locomotives," commuter rail operator Metrolink has canceled some trains on three of its routes.
Cancellations began on Tuesday August 23 and cover one round trip on each line. After originally being announced as extending until further notice, Metrolink now says cancellations are through Friday, August 26. "We expect sufficient numbers of locomotives by Monday 29 and will keep our passengers informed," the agency said in an alert service.
The canceled trains are:
— On the Ventura County line, train 100, departing at 5:02 a.m. from Moorpark, and train 121, departing at 5:54 p.m. from LA Union Station in Moorpark;
— On the Antelope Valley line, train 202, departing at 4:41 a.m. from Lancaster, and train 229, departing at 7:39 p.m. from LA Union Station in Lancaster;
— And on the San Bernardino line, train 381, a 6:15 p.m. express departure from San Bernardino, and train 382, ​​a 5:26 p.m. express departure from LA Union Station in San Bernardino.
The trains News Wire asked Metrolink about the locomotive issues and will provide more information as it becomes available.
The current list of Metrolink locomotives includes 15 MPI MP36PH-3C diesels dating from 2008 and 40 EMD F125 locomotives built in 2016 and 2017. Metrolink remains the sole operator of the F125, a Tier 4 compliant diesel that has experienced significant issues starting when introduced. . It took almost two years after delivery of the first unit before any of the F125s were allowed to operate solo in commercial service, and it took almost five years to complete the order for 40 units, the last locomotive having arrived in May 2021. [see "Final Metrolink F125 arrives …," Trains News Wire, May 18, 2021].
In 2020, the agency indicated that it needed 60 locomotives to provide full service [see "Metrolink F125 locomotives poised for full operation …," News Wire, Feb. 24, 2020].