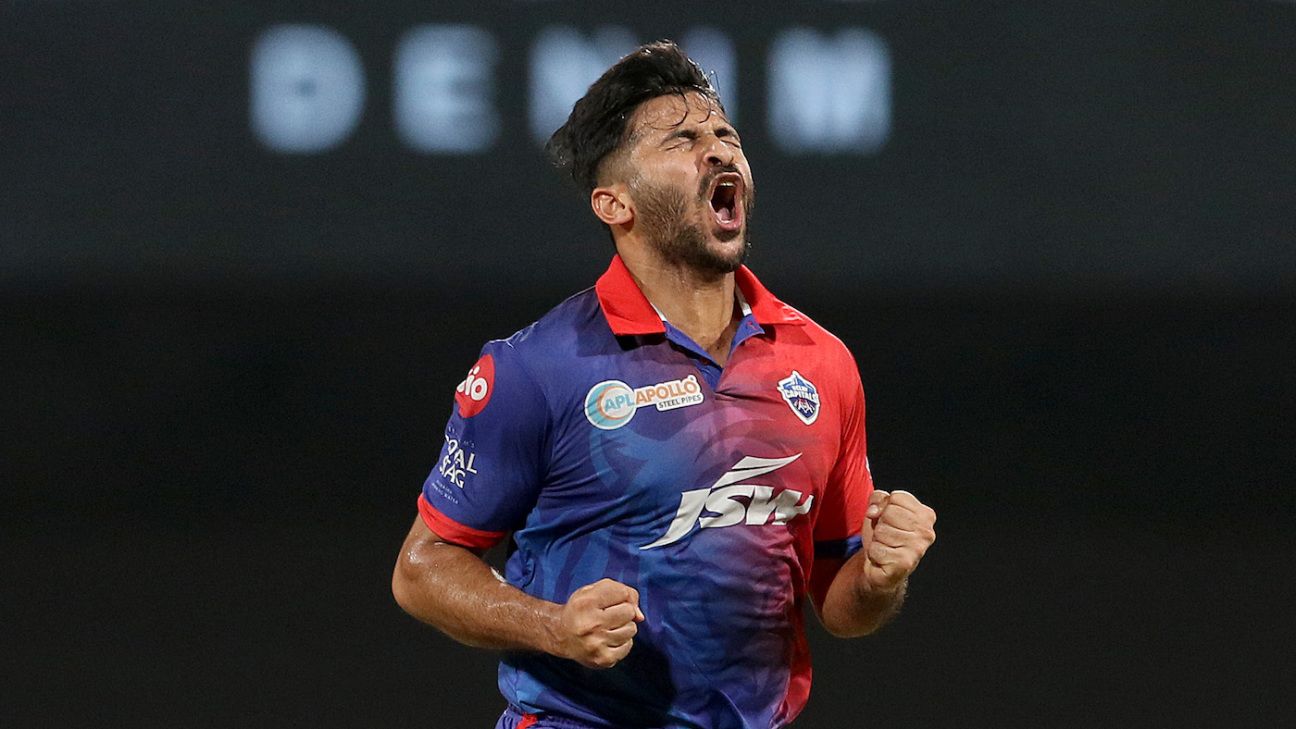 Recent Match Report – Capitals vs Punjab Kings Round 64 2022
Capitals of Delhi 159 for 7 (Marsh 63, Sarfaraz 32, Livingstone 3-27) beaten Kings of Punjab 142 for 9 (Jitesh 44, Thakur 4-36, Axar 2-14, Kuldeep 2-14) by 17 points
Mitchell Marsh produced a masterful half-century in extremely difficult conditions to score points. He was so good at judging when and who to attack, that this victory – which lifts the Delhi Capitals to fourth place – might as well have been built on his restraint as his big wins.
Meanwhile, the Punjab Kings, for all the bravery Jitesh Sharma (44 of 34) showed in taking it close, have now lost seven of their 13 games and are pretty much out of the tournament. Only a miracle can bring them to the last four.
Part time
Liam Livingstone is a fearsome six-hitter. So he knows better than anyone which bullets can be put into orbit and which can't. This bit of insight becomes his greatest strength when he dabbles in his second skill. Right arm of all kinds.
David Warner, who insisted on taking the first strike only after seeing Livingstone come to the bowl, was caught on the first point.
Rishabh Pant was puzzled right after hitting a six.
Both of these firings meant Livingstone understood that a power hitter's best asset is a solid foundation. Deny this by hiding the ball out of their reach and your chances of success increase.
Normally this is a tactic to limit runs. Here it became a wicket grab because a) ego – the Capitals just couldn't resist taking down Livingstone and b) the pitch was slow and low so feed the ball in like they were all trying to do wasn't really an option.
The big hitter
Marsh was 32 of 26 at the halfway point. When a power hitter of his quality is tied up like that, you know the pitch isn't ideal to score on.
So he decided to play the long game. To bide his time. Waiting for deaths often tends to be a bit of a lottery. Edges go for all six. Bowlers panic and miss their pitches.
He came in 17th of 47 of 37. By the end of the 18th he was 63 of 46. Those weren't exactly the bad conditions for him – the ball barely bounced or came off the bat – but he got it. very well done. .
Marsh barely tried to hit the tops. Instead, he focused all of his aggression where it could actually pay off. On Arshdeep Singh (19 out of 8, SR 237.50) and Kagiso Rabada (16 out of 9, SR 177.77).
It was a beautiful, calculated and daring strike.
Honorable mention: Back on the power play, Sarfaraz Khan played a gem of a 32-for-16 ball filled with several of the boldest shots, including a borderline third-man dilscoop. Coming into the match in place of Prithvi Shaw, who had only recently recovered from typhoid fever, her initial momentum allowed Marsh to afford the luxury of never having to feel the pressure of the ball.
Game over
For a man who has had so much success baiting heavy hitters into his trap, Livingstone fell to a hook, line and sinker.
In the Round of 16, with the game resting on his shoulders after the openers and captain fell, he charged down the lane towards perhaps the Capitals' best bowler – Kuldeep Yadav – and was completely knocked out by the googly.
Pant was so happy about the deception that he picked up the ball and hovered it over the stumps for an absolute age because the batter had charged so far he just had no hope of coming back.
When Livingstone's wicket fell, ESPNcricinfo forecaster gave Kings an 18% chance of winning the game. Just a bullet before that was 46%.
The Kings collapsed from 53 for 1 to 82 for 7 but they weren't giving up. Jitesh wouldn't let them. He prides himself on his ability to finish games. He says it's a skill that doesn't come to everyone and he says he has it. He kept a dead game alive on his own, and with 39 to win the last 18 balls, anything was possible.
Shardul Thakur (4-36) came on and ended the fairy tale, one of his slower special balls finally breaking Jitesh's spirit. The Capitals designer had paved the way to victory by knocking out Shikhar Dhawan and Bhanuka Rajapaksa in his first run of the day. It was rather fitting that he also took the wicket that sealed the game.
Alagappan Muthu is a sub-editor at ESPNcricinfo