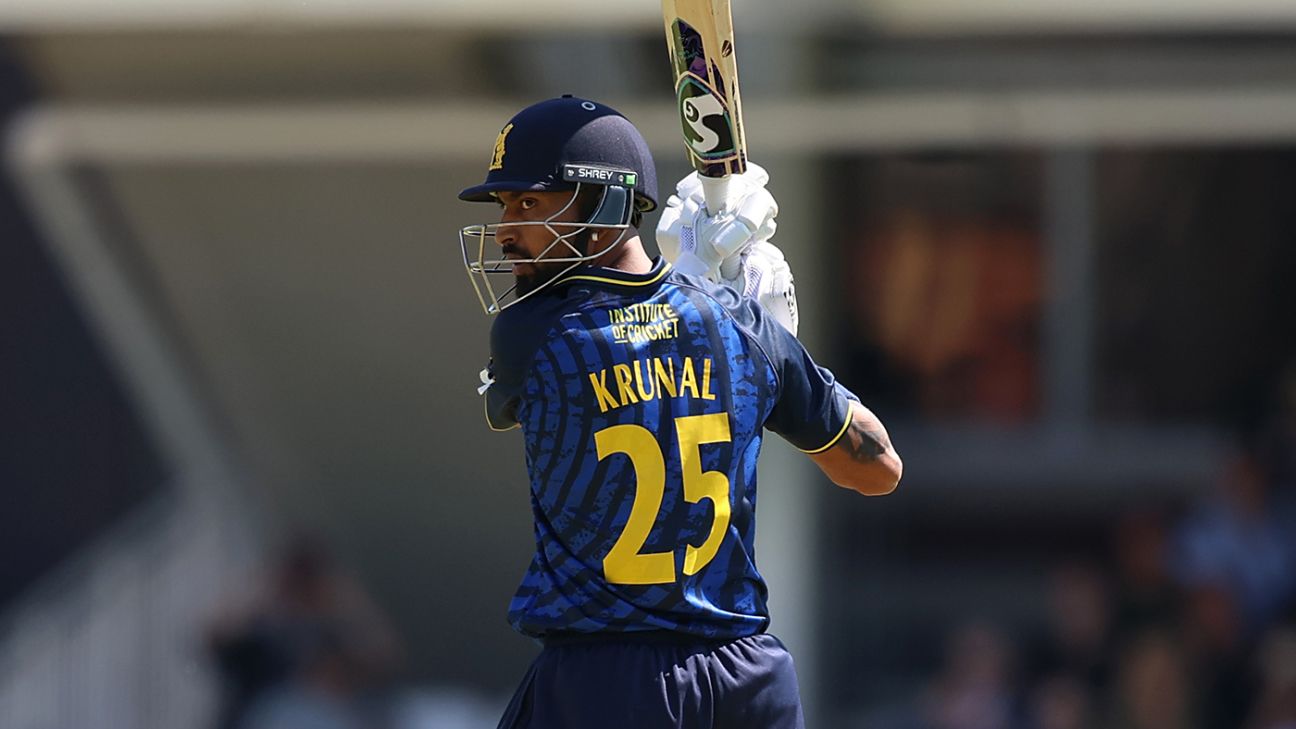 Recent Match Report – Warwickshire vs Surrey Group A 2022
Warwickshire 293 for 5 (Burgess 93, Krunal 74, Yates 54) tied with Surrey 293 (Kimber 84, Reifer 53, Norwell 3-50)
Tailenders Nick Kimber and Matt Dunn swung and swept over Surrey for a miracle Royal London Cup draw against Warwickshire in front of a thrilled crowd of nearly 5,000 at the Kia Oval.
Kimber hit six sixes and six fours in a remarkable 51-ball 84 and fellow dressmaker Dunn then hit Ollie Hannon-Dalby for two sixes in his front 34, with the scores level and every defensive player in the ring he was knocked down by a yorker Liam Norwell tries to hit a winning shot on the first ball of the final.
Dunn, with just 19 total runs in his previous 13 one-day games, nearly brought Surrey home after Kimber was fired with 31 extra runs needed on the last 27 balls as they chased 293 from the Warwickshire for 5.
Surrey No 11 Yousef Majid, an 18-year-old playing his first senior innings, stayed 5 paces in Surrey's 293, but it was Kimber, 21, and with a better score of just 27 of his five previous A-list appearances, who was the main hero of the hour after watching his side initially struggle at 184 for 7.
Previously, wicketkeeper batsman Michael Burgess played against his home county and he and India international Krunal Pandya were Warwickshire's top performers.
Kimber hinted at an extraordinary turnaround when he took three sixes in one Rob Yates and he also hit six fours in a brilliant effort that was only cut short when Krunal knocked him down through a cut attempt with his left arm spin at 46th over.
But Dunn would not accept defeat in his own 19-ball effort, leveling the scores with a last-ball second-to-last single against Krunal, immediately after tipping him in the middle of the wicket for his four second .
The Norwell yorker denied Surrey a memorable victory but, thanks to Kimber and Dunn, it was still a fine display from a young Surrey side. For Royal London's third running
game
, they fielded an entirely uncapped squad of nine players aged 24 or under. Nico Reifer, 21, also hit a challenging 53 that included two big sixes long past Hannon-Dalby and Norwell.
Burgess, who was born in Epsom and played for Surrey from Under-13 level to Second XI level but later represented Leicestershire and Sussex before moving to Edgbaston in 2019, achieved an A-best class 93 from just 78 balls, with two sixes and nines. four, and went 160 in 25.4 overs for the fourth wicket with Krunal, whose often powerful 74 occupied 82 balls.
Their stand rallied Warwickshire after stalling at 89 for 3 in the 21st, after opting to strike first in gloriously sunny conditions, and was a fourth List A wicket record for Warwickshire against Surrey. He beat the previous mark of 108, between Jim Troughton and Alex Loudon, at Whitgift School in Croydon in 2005.
Warwickshire lost Dom Sibley for 5 in the seventh over, front leg Dunn trying to whip a straight through midway through the wicket, but co-opener Yates called his 87 in Warwickshire's win over Gloucestershire at Cheltenham last Tuesday by scoring a solid 66-ball 54 in a second wicket alliance of 62 with Will Rhodes.
Yates dominated the partnership, completing his half century with a raspy square cut for four against Conor McKerr just before falling to the same bowler later in the over, jumping midway. And, two balls later at the start of the 21st, offspinner Amar Virdi had Rhodes caught at the wicket, pushing defensively, for 15.
The most incredible end of Surrey vs Warwickshire!

Match tied after Matt Dunn (34 runs from 19 balls) was knocked down in the final with a required!#RLC22 pic.twitter.com/j2sDwQrj1F

– Royal London Cup (@RoyalLondonCup) August 7, 2022
Virdi impressed in a ten-for-1-for-35 spell but Burgess and Krunal both battered carefully early on to rebuild the innings before accelerating effortlessly in the second half of their superb stand. Warwickshire's tally was 191 for 3 after 40 overs but 102 runs were looted from the final ten overs as Krunal dumped two sixes to add to his five fours and Burgess took successive sixes off McKerr's legs before mishit the next ball to deep midwicket.
Ethan Brookes and Matt Lamb both scored useful runs to further increase the tally, with McKerr's ten overs ultimately costing 79 as the fast bowler bore the brunt of Warwickshire's late onslaught.
Surrey's response got off to a poor start, with Ben Geddes trailing a swung ball wide from Hannon-Dalby into his own stumps to go for 9 in the fifth and the total slipping quickly to 31 for 3 as Ryan Patel edged Hannon- Dalby first-slid on 14, shortly after firing him in the middle of the wicket for six, and Cameron Steel was pinned front leg for 0 by Craig Miles.
Versatile Tom Lawes, 19, had previously caught Krunal athletically and acquitted himself well on the ball and now, at No.5, struck well for 28 before clinching Rhodes' second ball.
And Reifer then joined 23-year-old Josh Blake in a fifth wicket stand of 57 before Blake chipped Miles for keeper Burgess to drop for a 40-55 ball.
Reifer's first roster half a century ended when Lamb dived in for a fine catch at the deep center wicket, and Norwell was the hit bowler again when McKerr (2) edged past Burgess. Virdi was run down for 8, to make it 223 for 8, but by then Kimber's big shot had given Surrey a chance – and they almost made it.