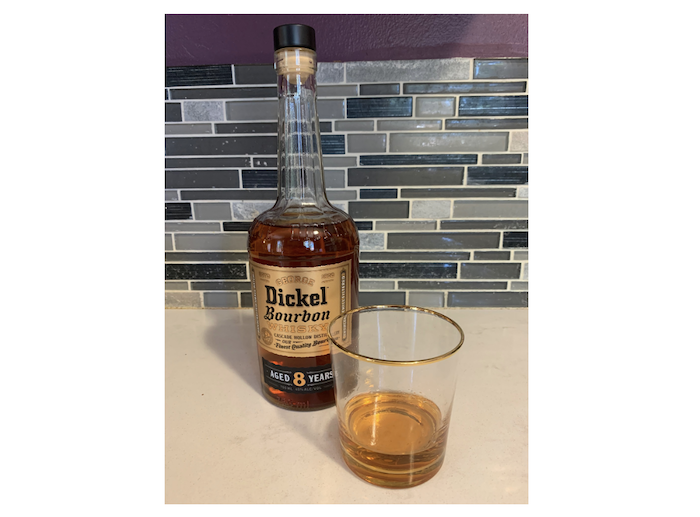 Whiskey reviewer: George Dickel Bourbon
Editor's Note: This whiskey was provided to us as a review sample by Cascade Hollow Distilling Co. This in no case by our editorial policies, influenced the final result of this review. It should also be noted that by clicking the purchase link near the bottom of this review, our site receives a small sponsorship payment which helps support, but not influence, our editorial and other costs.
One of my go-to flavors in whiskey (or whiskey, in this case) just happens to be Dickel Rye. Getting the chance to dip in a bit of Dickel Bourbon is an interesting contrast, especially if it's a new addition to the Dickel line, like this 8-year-old small batch version.
George Dickel whiskeys have been around for a long time, with George's relationship with Cascade Hollow Distilling Co. dating back to the late 1870s. His reputation for mild spirits continued as his brand grew. To this day, the company still cools the whiskey before it goes into giant vats for it. Lincoln County Process, due to the fact that George preferred to make his whiskey during the winter months, claiming a milder result. The company has survived the decades and even managed to stay open during Prohibition, securing a license to produce "medicinal" whiskey.
These days the company produces rye of different grades, white whiskey and a strong variety of well-aged and selected spirits. Their most recent offering slated to be regular bottling is the George Dickel Bourbon. So how does this new addition stand up to their own traditions, let alone other bourbons on the market?
Vital Statistics: This whiskey is 90 degrees and eight years old. It's cold cooled and charcoal filtered, and it costs around $ 32.00.
Appearance: Golden amber with a layer of stickiness that falls to the side in the equal legs.
Nose: Red apple and a sweetness similar to sweet pies hit the nose first. There is a wide assortment of baking spices, such as cloves and cinnamon, as well as a hint of black pepper on the back of the nose. The whole thing is accompanied by a scent reminiscent of sticky cinnamon buns.
Palace: The heat comes first but wakes up the palate instead of dominating it. It is present throughout the experience as a slight tingling on the tongue. There is a sweetness on the front of the tongue like raw cane sugar. Then come spicy notes of black pepper and cloves. It's well balanced and has just a hint of salty and mineral undertones that help with the depth of the drink. On ice, the qualities of oak are evident. The heat subsided to a warm blanket instead of a strong bite. The spicy notes were still there, and the sweet elements were also a bit muted. It's like drinking a sticky caramel bun made with a tasty dough.